Technology » Digital Radiography (X-ray)
Why digital?
Over the last few years, as the digital x-ray detectors are becoming increasingly popular, it has become clear that the digital x-ray imaging will indeed revolutionize diagnostic radiology in the same way the digital cameras revolutionized the photography.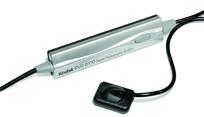 The digital radiography has many advantages over the traditional radiography:
It is environmentally friendly: requires no film and no chemicals
Instant images allow for immediate feedback and less waiting time
Provides better resolution than the traditional film
With the help of digital image enhancement techniques it increases the diagnostic accuracy allowing the dentist to detect problems in early stages and prevent them from aggravating
It significantly (70-80%) reduces the patient exposure to radiation
Allows the patient to visualize the issues himself and better understand the treatment
Kodak RVG 6100
The Kodak (former Trophy Radiology) introduced the world wide first intraoral X-ray imaging sensor in 1987 which was very quickly and largely recognized by the European dental market. Their current product, RVG 6100 digital radiography system offers the highest resolution digital sensor available in the industry today, unmatched image resolution and Kodak Dental Imaging Software is one of the best medical image applications.