PROPHY-JET is an air polishing prophylaxis system which uses air, water, and either sodium bicarbonate (ProphyJet®) or non-sodium (JET Fresh®) powder as a slurry to remove extrinsic stain, dental plaque and soft debris while simultaneously polishing tooth surfaces.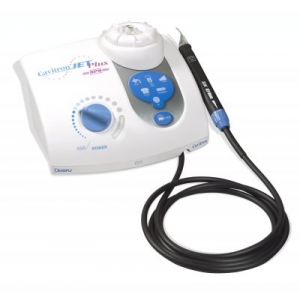 Recommended to clean tooth surfaces prior to bonding procedures and placement of dental sealants. Highly effective in use on patients wearing orthodontic appliances.
Sodium bicarbonate is accepted by most patients and is both minimally abrasive and water soluble.
Cavitron® Jet Plus™ Ultrasonic Scaling System
The Cavitron® Jet Plus™ is a dual mode ultrasonic scaler and air polishing unit. Its advanced Sustained Performance System continuously adjusts the tip stroke to minimize patient disconfort during scaling and polishing.